All on Six Treatment
Sefakoy, Kucukcekmece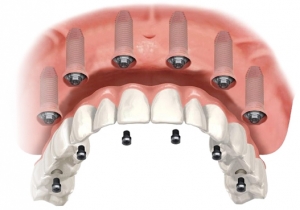 The All on 6 dental implant procedure is used to replace all upper or lower teeth. This procedure is used to rebuild a patient's mouth when a considerable number of teeth have been lost in either or both jawbones. This procedure allows the patient to have all of their teeth replaced with six natural-looking dental implants. The All-on-6 implant usually does not require bone grafting. Thus, it is the ideal treatment for people who have low jawbone density or volume. The All-on-6 treatment is a more durable and healthy alternative to dentures.

Six implants are inserted into the lower or upper jawbone to secure the dentures in place permanently. Following a thorough examination, your dentist will use digital X-rays or computed tomography to assess the anatomical components of the mouth. After that, your dentist will assess the bone loss and impressions for giving you a new smile. The implants implanted in the jaw merge with the jawbone over time, acting as a natural tooth root and providing patients with a genuine smile.
Advantages of All on Six Treatment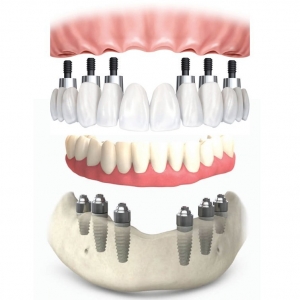 It can replace all missing teeth in just one day with a single operation.
Implants are permanently fixed in your mouth and do not loosen or dislodge like dentures.
It is cheaper than replacing each missing tooth individually.
There is no need for bone grafting and advanced surgical procedures.
All-on-6 implants are a great option for individuals of all ages and who have lost all their teeth.
It prevents future bone loss in the jaw, assisting to maintain a younger facial structure and better oral health.