Dental Crown
Sefakoy, Kucukcekmece
Dental crowns are caps placed over teeth. They are preferred when the problem cannot be solved with applications such as filling, bonding or veneers. Dental crowns are used to protect, cover and restore your teeth to a healthy appearance. Dental crowns can be made of metal, porcelain, resin and ceramic materials.

What Are Dental Crowns?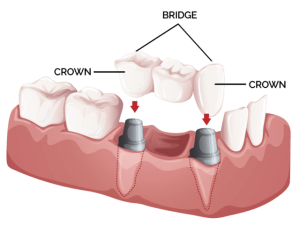 Many factors, such as dental caries, clenching issues, and oral traumas, can cause your teeth to lose shape and size over time. They may lose power resulting in a fragile structure. Dental crowns are tooth caps that cover the visible portion of the tooth. This is why they are also known as a tooth cap or a tooth crown. Dental crowns aesthetically restore the shape, color, size and strength of the tooth.
Why would I need a dental crown?
You may need dental crowns in the following situations;
• Dental implant being covered.
• Closure of a tooth for which a root canal treatment is performed.
• Closure of severely discolored teeth.
• Maintaining the integrity of a fragile tooth and preventing additional damage
• Restoring tooth appearance to a fractured tooth or a highly worn tooth.
• Closing a tooth that can't be filled because it's too damaged.
• Holding a dental bridge in place.